Derryglad Folk and Heritage Museum
Derryglad Folk Museum is a hidden gem located in Curraghboy, in south Roscommon.
The museum is privately owned and run by the Finneran family. Charlie Finneran and his family hold a unique collection of over 6,000 items that they have been collecting for over 40 years. The collection gives a glimpse into Irish farming and folk life from the 18th century to the recent past.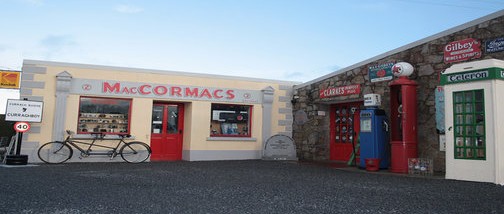 For those with an interest in the lifestyle of bygone days, the Museum hosts laundry memorabilia, old and rare washing machines, a 1930's old-style thatched bar & grocery, old-style sheep shears, radios, gramophones and a large collection of 78rpm records, shop dockets and bill heads. For those with an interest in photography, we have McCormacks photography room, it includes; a dark room, finishing room, D & P line, camera enlargers and B & W colour processors, as well as much, much more.
Derryglad Folk Museum consists of a museum, vintage machinery, McCormacks photography room and there is also a famine memorial stone located on the site.
The Museum
From the moment you walk into Derryglad Folk Museum you will be taken on a wonderful nostalgic journey, from barn thrashing on a Scottish Highland Croft to sheep-shearing in the Australian outback and then back to an Irish country bar and grocery of the mid-1900's !! Every conceivable item, from the kitchens, sculleries, farms, shops and bars of Ireland's past is at Derryglad.
As the collection grows, displays are constantly changing at Derryglad Folk & Heritage Museum, It is now established as one of the finest private collections of folk memorabilia in the country.
Vintage Machinery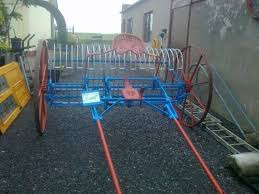 Charlie Finneran and his family have gathered a vast collection of horse drawn machinery and restored them all to original working order.
There is also a fully restored Grey Ferguson tractor.
McCormack Photography Room
The McCormack Photography Room takes you back to those not so long ago days before digital photography.
On display in the McCormack Photography Room are the contents of McCormack's land­mark studio/shop at 2 Northgate Street, Athlone from 1948 to 2002, including items from the dark rooms, finishing rooms, D&P line, cameras, enlargers, B&W and colour processing equipment. They are all on permanent display in a work like setting.
Opening Times
Opening Times
May - September
Monday - Saturday
10:00am - 6:00pm daily
Any time by appointment
We also cater for school tours and bus tours, for more information
Derryglad Folk and Heritage Museum
Charlie and Bridie Finneran
Curraghboy, Athlone, Co. Roscommon
Tel:+353 (0)90 6488192
Email: info@derrygladfolkmuseum.com
For more information
Check us out on Tripadvisor